Splash Devonport Aquatic & Leisure Centre
The World Class Splash Devonport Aquatic and Leisure Centre was officially opened on the 11th January 2014.  Located within the Don Reserve in Devonport, Tasmania.The new facility comprises a 25m indoor pool plus a combined leisure, learn to swim and warm water exercise pool.  Completing the leisure centre are gym, program rooms, multipurpose room, swim clubrooms, wet and dry change facilities, reception, administration, retail area and cafe.
Designed in collaboration with dwp|suters, The design creates a genuinely community focused facility, which is contextual to the site and can be utilised all year round.  By engaging in extensive consultation with the City of Devonport, our approach ensures a design that meets the expectations of the stakeholders now and well into the future.
The design influences come from the local Don River Railway adjacent to the site, the Sawdust Bridge, and the Mersey Bluff Lighthouse which is Devonport's most iconographic landmark.  The curvilinear roofs are split to define two pavilions while still relating together as one form.  The pool hall pavilion creates a large open space which connects with the existing 50m pool and the bushland beyond.  The sweeping roof of the gym and entry opens the building out to the bushland to the north and extends under the pool hall pavilion to create the entry canopy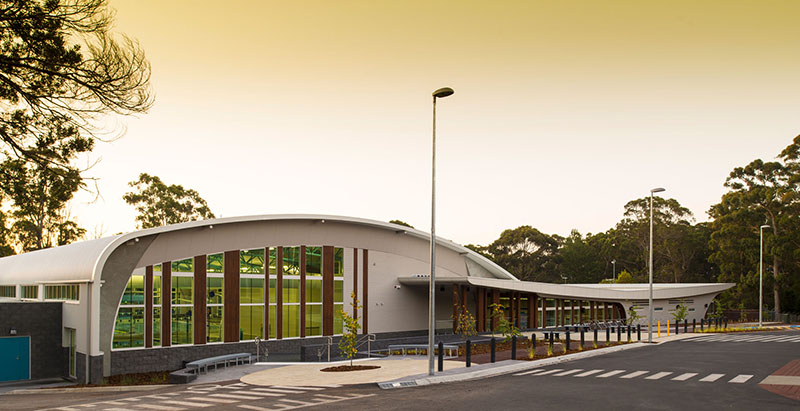 Location
Devonport, Tasmania
Category
Public Buildings
Sports & Recreation